Search new places to catch fish.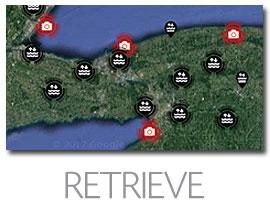 Find your past fish catches.
Review fish-catch details.

Fishermen, like many other outdoor enthusiasts, rely heavily on maps. Maps offer a means of getting from point A to point B, in addition provide topography, water course information and natural characteristcs that provide additional insight into picking the right locations to fish. FISHBUOY helps you identify hundreds of thousands of fishing spots from across North America that have been collected and recorded by official fisheries management agencies. Fishing spots are supplemented with your fish catch locations offering you a compact and powerful mapping environment to help you find places to fish.  Get it today and find your honey hole.
| HIGHLIGHTS | WHY UNDERSTANDING MAPS WILL HELP YOU CATCH FISH |
| --- | --- |
| Spatial Trends | Visual display of fish catch clusters on a map can show fishing hotspots or common places to fish. |
| Temporal Trends | Once you identify high density clusters of fish catch photos, your next step is to look at time related information to determine when and under what conditions fish were caught. |
| Multi-Source Data Integration | FISHBUOY offers one platform for viewing real-time water data, weather data, fish catch data, map data and time-related data to help you plan smarter. |
| Real-Time Data | Once you have identified potential places to fish, then it's time to look at water conditions. Pick from thousands of water bodies that are monitored daily for water levels, water discharge, water turbidity or water temperatures and align your trips to the right conditions. |
| Fishing Success Index (FSI) | Understanding fish biology and predicting how water and weather conditions influence fish activity can be tricky. That's why we invented the Fishing Success Index (FSI). FSI uses a proprietary algorithm to calculate locations meeting the ideal physical and biological conditions that impact your fishing success. This is no voo doo magic or farmers almanc guessing. FSI uses spatial and temporal modeling techniques to produce a probability of success and displays results on a map. |
* - Data dependent on monitoring station data availability and varies from state to state, province to province. Talk with your local water agencies to expand the network!