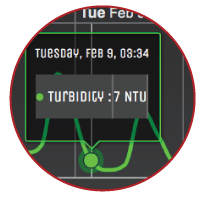 WATER TURBIDITY
FISHBUOY TripPlanner provides real-time and historical water turbidity graphs for rivers and reservoirs across North America.  In a single view, you will better understand which water is fishable, and which is blown.  You will also have the ability to correlate historical weather events and how they impact water turbidty.  This allows fishermen to predict what water conditions might look like in a few days based on the precipitation forecast.
| HIGHLIGHTS | WHY UNDERSTANDING TURBIDITY WILL HELP YOU CATCH FISH |
| --- | --- |
| Bait Selection | Determine the best bait colors and styles for the turbidity levels. |
| Predict Precipitation Impacts | Refer to fish catch data and turbidity graphs and anticipate how precipitation with change water turbidity at your favourite fishing spots. |
| Species Tolerance | Quick access to fish catch data and turbidity data provides you with deeper insight into which fish are more active during turbidity events. |
* - Data dependent on monitoring station data availability and varies from state to state, province to province. Talk with your local water agencies to expand the network!